Villa Ricrio
Villa Ricrio has a large garden with access via a wrought iron gate complete with intercom and code.
The beautiful terrace, overlooks the pool and garden, surrounds the house and offers impressive 360 ° views.

The Villa is arranged on two floors and offers accommodation for up to 18 people. The apartments are divided into 6 double rooms and 2 single rooms, all with en-suite bathrooms. One of the double rooms has a fireplace and private entrance. There is a large master suite with sitting room / study and bathroom, plus a cot.
The Villa, the intimate and private chapel, the ample terrace and the lovely "old stables ," can be the perfect location for weddings, corporate meetings, photo shoots, fashion shows and art exhibitions.
In evidence
Ground
1 Double bedroom with bathroom and access to the terrace
1 Twin room with bathroom
Kitchen
Salon
Laundry
Chapel
First Floor
4 Double bedroom with bathroom
1 Double bedroom with bathroom and salon (Suite)
1 Twin room with bathroom
Outdoor Area
Pool 12×6 mt depth 120/180cm
Services
Air conditioning in the rooms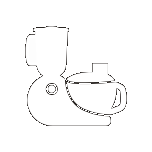 Robot kitchen
Request availability
Fill out the form to make an availability request:


Villa Ricrio Annex
Next to the cellars of the villa there is the "Annex", the old residence of the custodian, a lovely independent mini-apartment on two floors with entrance hall, kitchen, small sitting area with TV and library on the first floor and a large double room with bathroom .
A small love nest warm and intimate for a moment of absolute magic.
If necessary, it can be added to the villa to reach a total capacity of 18 beds.
In evidence
N° 2 Bed
N° 1 Room
N° 1 Bathroom
Ground
Kitchenette
Living room with sofa and TV
First Floor
Request availability
Fill out the form to make an availability request: